'Where Is Lucy?' Is Going to Become Your New Favourite Christmas Film and These Ladies Are the Reason Why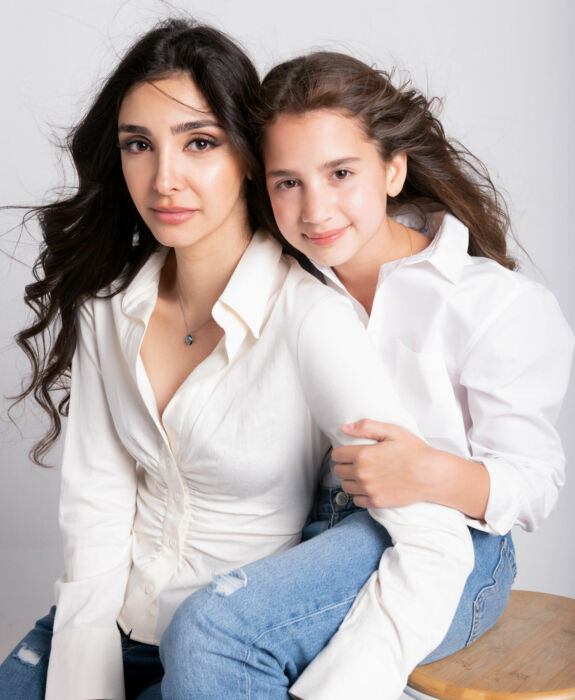 Published by Cosmopolitan Middle East -
https://www.cosmopolitanme.com...
It's no secret that we love bingeing movies and TV shows. Now naturally, if you've watched as many movies as we have – you have a pretty good radar for what's hot and what's not. So consider this the inside scoop: 'Where Is Lucy?' is cinematic gold and we haven't even watched it yet.
https://www.instagram.com/p/CQ...
Cosmo ME sat down with Salma Azzam, director and genius behind the movie, and frontrunner plus all-around-star, Eva Petersson, to talk all things filming, on-set relationships, and their favourite scenes.
Spoiler alert: their relationship is just about the cutest thing ever.
Finding 'Lucy'
When Salma first met Eva as a guest on Eva's talk show, THE BUZZ, she was already writing her script for 'Where is Lucy?' While Eva didn't fit the description of the lead role for her script, something about the bright-eyed 11-year-old's persona and passion gripped Salma's attention. So on the off chance that Eva was in fact remarkably talented and perfect for the movie, Salma invited her to audition for the role.
Unsurprisingly, Eva nailed the audition and in Salma's words is incredibly 'directable' – something she looks for in her actors, making her the Lucy Salma had been looking for. And there began the journey of a Christmas story…
The bond beyond the set
We asked Salma to describe Eva in three words, she chose: pure, inspiring, and a star. Eva, on the other hand, described Salma as honest, loyal, and a turtle. The explanation for the latter is for her hard exterior but incredibly soft interior. So freaking cute!
https://www.instagram.com/p/CP...
Dedication, passion, and emotion ran high
"I always try to make it [filming] fun because it does get hectic at some point. Especially for Eva, she's very young, and she doesn't stop. This girl goes to school, then dance class, then music class, and then there's a rehearsal with me for two hours," says Salma. But although she did her best to make the experience a fun one, she was just as tough on her star when she needed to be.
"With Eva, after some time, she had already understood the character that I wanted, because it's one lead. The whole story revolves around this one character, and that's what I told her. I said, 'You need to get this right. The whole movie is depending on you, you need to get this right. We're not gonna stop until you do.'"
https://www.instagram.com/p/CR...
And if you thought that was tough, let us tell you this: Eva specifically requested Salma to make her cry IRL for the scenes. "I would tell her, 'You better make me cry. You chose me for this, you have to make me cry.'" says Eva.
Filming during a pandemic and favourite locations
Having filmed in Dubai, it was only natural to wonder what their fave locations to film were. After all, the fans will need to take a post-movie trip down to the set. For Eva, it was either the coffee shop or the bridge at Riverland Dubai.
While all of Salma's movies have been filmed in the UAE since she moved here, shooting 'Where is Lucy?' was definitely different, considering it was filmed during a literal global pandemic.
https://www.instagram.com/p/CQ...
"It was harder than any movie I've made because there were just so many external things that we had to take into consideration," Salma said. "But it's a beautiful country. It's an amazing, very supportive community for creatives and filmmakers. I'm obviously very proud and happy to say that our movie is UAE-based."
And there you have it, a small snippet into the magical world of 'Where is Lucy?', the endearing bond between director and star, and the talent that resides in the UAE.
Head to their website to stay up to date on screenings, updates, and everything the cast and crew are up to!