Watch: On a Roll, Dubai's Child Actor Eva Petersson Gets Candid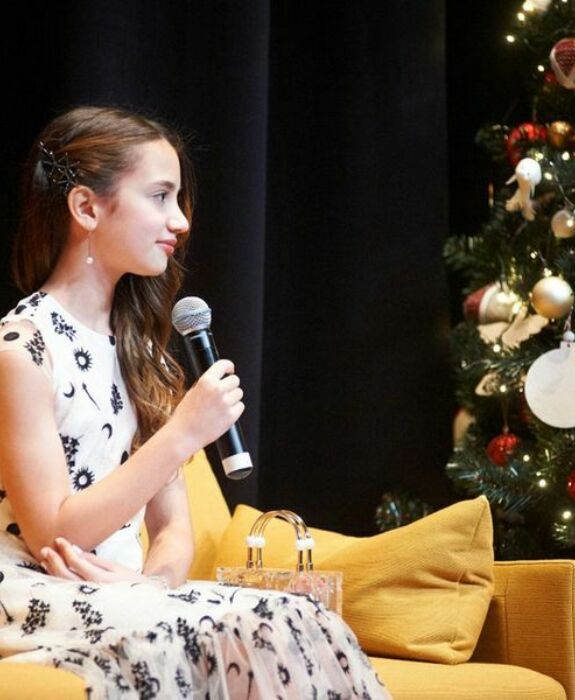 Dubai: As a four year old, Dubai-based Eva Petersson remembers standing on a makeshift stage of a few short tables, faking a microphone in hand and singing with gay abandon to an imaginary audience at home. She just loved the feel of it, having rendered Doe a Dear from the Sound of Music to a huge applause at a variety show earlier.
Ask Eva, a stunning 13 year old now, about the star she has become, and she quips: "No, I am not a star yet. Never thought of myself as one as there is so much to accomplish still."
This despite having played key roles in the American series Go! Iguanas: The Metaverse and the homegrown Where is Lucy? – besides featuring in over 20 commercials, including those for Dubai Tourism, Yas Island, Dubai World Expo 2020 Closing Ceremony Global TV and Volkswagen by Disney.
A recipient of several international awards, she recently made it to the global finals of the international acting competition World Monologue Games (WMG) and received the Breakout Performer Award. The previous year, she walked away with the Bronze medal.
'I hate to brag'
Not one to be carried away by the success though, Eva says, "It is important to stay grounded, to believe in yourself but be humble. I hate to brag because I am not there yet. It is equally important to be able to deal with rejection because 90 per cent of the time, your auditions and callbacks could end up with a rejection. Not because you did not do well but because of you did not fit in for whatever reason."
Mature beyond her years, Eva says she has her parents Valerie and Kristian Petersson, besides her school, the American School of Dubai, to thank for. "My mother is French-Argentinian and my father Swedish. So I come from a very diverse background. Born and raised in a place like Dubai where there are people of so many nationalities has only added to that diversity," says Eva, explaining how the exposure to different kinds of cultures has brought with it its own level of understanding and confidence.
In fact, her first international break with the American series Go! Iguanas: The Metaverse couldn't have come as a better fit as she played Panelope Grayson, one of six girls who must overcome their differences to get along at an international boarding school.
Constant effort
Eva, who has been signed up for the second series too, says her growth as an actor, singer and dancer has involved constant effort ever since she made the first cut at an audition in Orlando in the summer of 2017. "I must have been around six and a half years. I still remember the day when I was going to school with mum. She had seen the potential in my acting and singing and asked me if I was ready to do an audition for some agents and I agreed."
There has been no looking back since.
As Valerie points out, "Eva's talent was not an overnight discovery. It has involved a lot of hard work, built block by block with constant training, so she competes to the best of her ability. And yes, the journey also goes with a lot of self-doubt. The key is to not think about it and move on."
Having taken theatre classes at the Trinity London Drama School since 2017, Eva has also trained under renowned international acting coaches. She has even done musical theatre with multiple vocal and dancing classes in New York and Dubai.
Mum, mentor and manager
Being a good student at school makes it that much more difficult for Eva. "I am invariably juggling between my auditions, trainings and school commitments. But we somehow work it out, thanks to my super mum who is also my mentor, manager and Google calendar."
She says it's all about prioritising and compartmentalising responsibilities, whether it is doing homework or reading out a script for an audition.
Eva believes in giving her 100 per cent to a task when she takes it up. She particularly talks of lead role in 'Where is Lucy?' where her character required her to cry. "I am not someone who cries easily, so I requested my director Salma Azzam to be mean to me on set so I could shed some tears. I told her that and forgot about it. But she remembered what I had said and it helped me a lot."
So how do her friends deal with who she is? "As a rule, I never ever tell anyone of my assignments. They see me in a commercial or musical and find out by themselves. But they know I am still the Eva that they know. There is no other way."
An active anti-bullying campaigner in school, Eva also does her bit to promote self-esteem and self-confidence in others.
"Eva, who has four brothers, has demonstrated these leadership qualities since she was a young girl. She wants everyone to be as happy as she is," says Valerie.
Check out the full article here: Gulf News