Meet UAE-Based Starlet Eva Petersson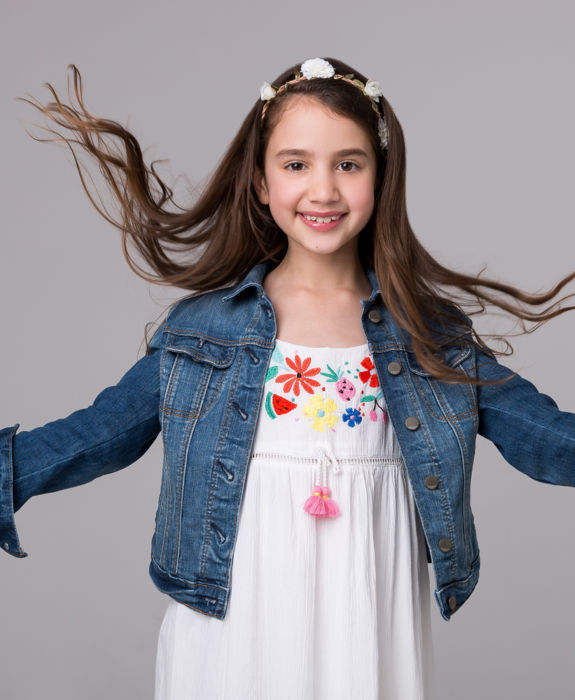 Published by Time Out Dubai -
https://www.timeoutdubai.com/k...
Ten-year-old actress is one to watch
She was born and raised in the UAE, currently attends the American School of Dubai in Al Barsha and, at just ten years old, Eva Petersson has starred in a successful TV series in the US called Go Iguanas!
So successful in fact that there is a second season in the pipeline meaning the young starlet will be heading back Stateside to reprise her role as Penelope Grayson.
Go Iguanas! is set in an international boarding school where six girls must learn to overcome their differences and get along.
But as if that wasn't enough for a young girl who has school, friends and tween life to manage, Petersson is also currently scripting, directing and producing her very own films in Abu Dhabi.
We catch up with the little starlet to talk and fitting studying around a fledgling career in acting.
When did you start to enjoy acting?
Back in kindergarten, we did a show where we had to perform on stage. It was a magical moment for me and from then on, I never wanted to do anything else, but perform.
Does anyone else in your family have a gift for performing arts?
It's just me right now, but I was told my mum used to do a bit of acting when she was younger.
Is it just acting you do, or do singing and dancing come into to it as well?
Yup. I take voice, dance and drama lessons. I really like being able to do all three disciplines at the same time so when I get to perform in musicals, that is a truly amazing experience. I really like acting on set, too. But it's just different when you can sing, act and dance all together.
Do you go to a performing arts school in the UAE?
Yes, I do, and they teach us how to improve our singing, dancing and acting.
It is a never ending learning experience to be honest. Especially with musical theatre, because it is tricky to put it all together and dance, act and sing all at the same time, but I really enjoy it.
When you grow up do you want to be an actor?
Yes. I would like to continue acting, even though prepping for auditions and learning long scripts are difficult. I would definitely like to do movies.
What school productions have you done?
We did Hairspray in school last year. Before that, I would dance and sing at school talent shows. This year, I tried out for the role of Annie in Annie Jr. the Musical – and I got it. I've always wanted to play Annie so I'm really excited for this show.
How did you land the part in Go Iguanas?
I auditioned with the Premiere team when they came to Dubai. Then I got to go to Orlando for the global auditions. Any project I've ever worked on, I have had to audition for it, and often more than once.
Tell us about Go Iguanas…
Go Iguanas! is about a group of kids that are super spies. Some are on the good side and some are on the bad side. And they all go to St Ignatius Boarding School.
What about your character?
Oh, I totally love my character. Her name is Penelope Grayson. She has the special ability to see the future. She is super clever and can solve any riddles.
You must all have so much fun on set.
Yes, it is a lot of fun. We became like brothers and sisters and developed a very strong bond. I love working with everyone on set, especially after we finish doing a great scene.
And while you're having so much fun and getting a job done, is there time for schoolwork?
I try to work harder ahead. I also take the work with me and do it while on set between scenes or during my days off.
Is it hard to balance life in Dubai and all your friends here with your work in the US?
So far, so good. My Mum organises my schedule, so I don't feel overwhelmed. Sometimes, I have to miss birthday parties and playdates so I can prepare for audition tapes. Usually Fridays are spent at home working on my acting.
You've achieved so much in such a short amount of time! But we have to ask… What's next?
I have so many projects coming up. I am in the process of writing scripts for a short film about animal conditions in circuses and bullying. I'll be able to direct and act in this movie, so I'm very excited. I will also play Penelope again in Go Iguanas! in the very near future. (Sorry, but I can't say more about that at this stage!) There are several auditions for roles in other projects, too. I also have a new project I'm starting, a video interview series with Middle East film personalities. And right now, we have rehearsals every day for our Annie Jr the Musical at school.